A firefighter from the south of France is responsible for a series of wildfires in the region which he started in a quest for adrenaline, French authorities have said.
The man, a volunteer firefighter from the Herault region, was arrested on Wednesday, regional prosecutors said.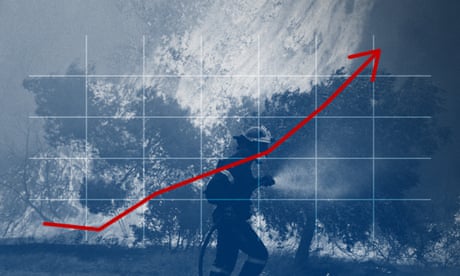 The case of the man called the "pyromaniac fireman" by French media has sparked a keen interest in France, which was shocked by a swathe of wildfires during last week's heatwave that forced the evacuation of thousands of people.
Montpellier prosecutor Fabrice Belargent said in a statement that the man had admitted starting fires with a lighter on 26 May, 21 July and most recently over the night of 26-27 July.
"Asked about his motive, he declared that he had done this in order to provoke an intervention by the fire brigade to save him from an oppressive family environment and because of the excitement these interventions caused him," said Belargent.
"Adrenaline he called it – these are his own words," said the prosecutor. "He also said he had a need for social recognition."
The man, who is in his 30s but has not been named, works full-time as a forester, with preventing fires one of his primary responsibilities.
His lawyer, Marie Bar, told BFM TV that under questioning the man had "expressed very strong regret and above all a strong sentiment of shame".
She confirmed he had been remanded in custody by an investigating judge ahead of trial.
"He apologised to the … firemen who he works with as he calls them his big family. This is someone who is very devoted to his work," she said.
"He finds it hard to explain. In a way he is relieved to have been arrested. He explains it as an addiction."
If convicted, he faces up to 15 years in prison and a €150,000 (£125,000) fine
… we have a small favour to ask. Millions are turning to the Guardian for open, independent, quality news every day, and readers in 180 countries around the world now support us financially.
We believe everyone deserves access to information that's grounded in science and truth, and analysis rooted in authority and integrity. That's why we made a different choice: to keep our reporting open for all readers, regardless of where they live or what they can afford to pay. This means more people can be better informed, united, and inspired to take meaningful action.
In these perilous times, a truth-seeking global news organisation like the Guardian is essential. We have no shareholders or billionaire owner, meaning our journalism is free from commercial and political influence – this makes us different. When it's never been more important, our independence allows us to fearlessly investigate, challenge and expose those in power.Support the Guardian from as little as $1 – it only takes a minute. If you can, please consider supporting us with a regular amount each month. Thank you.