A 104-year-old daredevil ditched her walking frame for a parachute as she attempted to break the record as the world's oldest skydiver.
Dorothy Hoffner, from Chicago, made a tandem jump from 13,500 feet (4,114m) in northern Illinois on Sunday.
Having completed her first skydive when she was 100, Ms Hoffner took to the skies once more after being helped to the small plane – a Skyvan – joining other jumpers inside.
She was looking to beat the Guinness World Record for the oldest skydiver set last May by 103-year-old Linnea Ingegard Larsson from Sweden.
Keen to get started, after taking her seat on the aircraft she said: "Let's go, let's go, Geronimo!"
After her first skydive, Ms Hoffner said she had to be pushed out of the aircraft.
But this time round she insisted on leading the jump.
Harnessed to a parachute instructor, the centenarian was said to be calm and confident as the plane door opened.
Shuffling to the edge, Ms Hoffner leapt out of the plane head first, performed a forward roll in the sky, and ended up flying in freefall, torso facing the ground.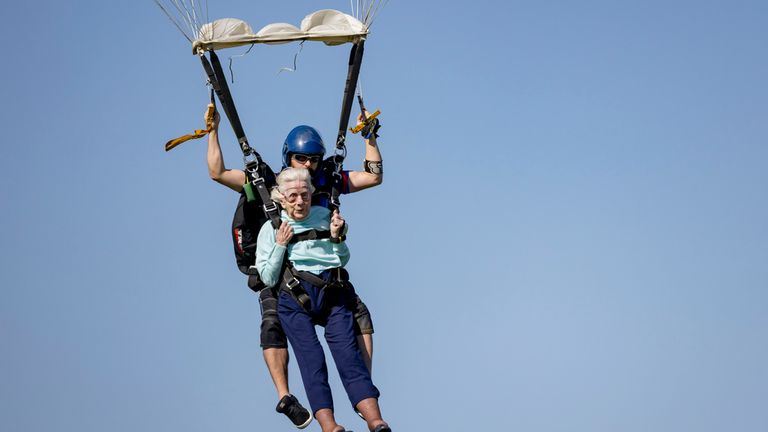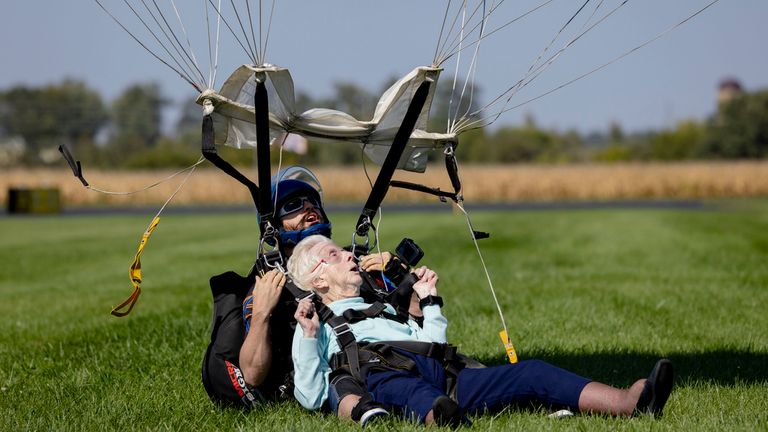 After seven minutes, the landing was achieved.
Ms Hoffman told the cheering crowd which greeted her on landing at Skydive Chicago in the Ottawa region that "age is just a number".
As she was reunited with her walker, she said it was "wonderful" to be back on the ground.
Ms Hoffner added: "But it was wonderful up there. The whole thing was delightful, wonderful, couldn't have been better."
Read more:
Who made it into the Guinness World Records book for 2024?
Zeus, the world's tallest dog, has died aged three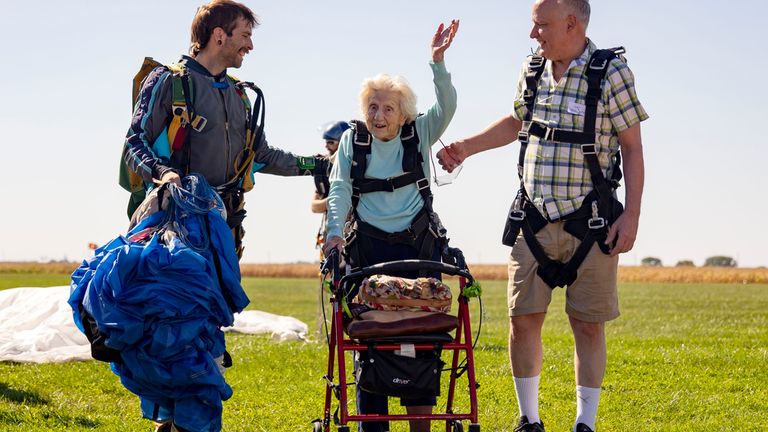 After her jump, the thrillseeker, who turns 105 in December, said she would possibly ride in a hot-air balloon next.
"I've never been in one of those," the lifelong Chicago resident said.
Skydive Chicago is working to have Guinness World Records certify Ms Hoffner's jump as a record, a local TV station reported.