As the spectators filtered out of the Basin Reserve and into the streets of Wellington, the events witnessed were yet to truly sink in. Eyes were like saucers, jaws long since dropped, and whatever the allegiance – New Zealand or England – the free tickets on day five had turned every single one of them into lottery winners.
This was an unforgettable day of Test cricket and one that delivered the rarest of margins. A one-run victory over this marauding England side meant New Zealand had become just the second team in the format's 146-year history to triumph by this scoreline – and only the fourth to prevail after following on.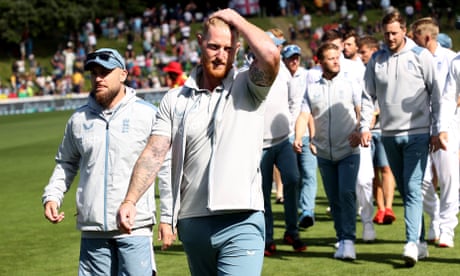 With it, Tim Southee's men had also inflicted the second defeat of England's startling resurgence under Ben Stokes and Brendon McCullum and extended their proud unbeaten record at home to 11 series. Kane Williamson was named player of the match at the end of this 1-1 series draw, his seven-hour 132 in the third innings having helped set England the 258-run target they so very nearly reeled in.
Where better to start than the end? As Jimmy Anderson, 40 years young and 179 Tests on the clock, walked out to join Jack Leach after Ben Foakes had fallen for a defiant 35, the ground was transfixed. Seven runs needed, nine wickets down, was Anderson's recent insistence he has no interest in ever hitting the winning runs – "I don't like batting, simple as that" – about to end with that famous frown upside down?
It was not to be. Despite crunching his fourth ball through mid-wicket for four in a calculated charge, and seeing a perilous single from Leach then make it just two runs to win, Anderson could only stand there looking guilty when, at 4.05pm local time, the lightest of tickles down leg off Neil Wagner flew into Tom Blundell's gloves to spark jubilant scenes for the Black Caps and their supporters.
Anderson had wondered whether Wagner's previous ball – a bumper – was in fact a wide but after five undulating days and such a nail-biting finale, it was not the story. No hard feelings followed. These two teams get on famously, England having been influenced so heavily by their hosts in recent times. Both sets of players knew how fortunate they were when the line of handshakes snaked across the outfield.
It was fitting that Blundell should take the catch, his precious 90 on day four followed by prolonged spells stood up to the seamers having helped induce England's panic. The same goes for Wagner's role in the coup de grace, 10 overs into a lionhearted spell. Manhandled previously, and aware that, on the brink of turning 37, many were questioning his future, the left-armer had earlier produced the key breakthroughs – Stokes for 33 and Joe Root for 95 – that had blown the doors wide open.
Root had appeared to be leading England home in classical style, spurred on by thoughts of atonement after his role in Harry Brook being run out for a duck in the morning. After a slightly frantic 14 from Ollie Pope was terminated at slip, Root guided the next delivery behind square and set off, only for Michael Bracewell to swoop round from slip and laser his throw to Blundell up at the stumps.
There were shades of Geoffrey Boycott running out hometown hero Derek Randall at Trent Bridge in 1977, Root left mortified with a hand on his head as Brook, a centurion in the first innings and England's breakout star of the winter, trudged off dolefully without facing a ball. Nasser Hussain barbecuing another coming man, Andrew Strauss, in his final Test at Lord's 19 years ago similarly sprung to mind.
As if to rid himself of the guilt, Root soon got the scoreboard moving by taking Bracewell for 17 runs off an over. And from 80 for five inside the first hour – both the nightwatchman, Ollie Robinson, and Ben Duckett having fallen early – he and Stokes began compiling a 121-run stand across 35 overs. Matt Henry was struggling with a back spasm and New Zealand, unable to defend targets of 277, 299 and 296 in England last June, were back in familiar territory.
But while Root was displaying the same poise witnessed during his unbeaten 153 in England's first innings, Stokes was again struggling with that longstanding knee injury and lacking fluency.
Finally, driven to distraction, he went for a giant heave off Wagner only to send a top-edge into the leg side. When Root followed suit in Wagner's following over, England were suddenly seven down, still 56 runs required.
Once Stuart Broad swiftly came and went, a gripping contest of cat and mouse ensued as Foakes, having walked out to the middle on a pair, shepherded the newly arrived Leach. It so nearly came off, Leach reprising his role from Headingley 2019 as the bespectacled wall of resistance at one end, while his senior partner, though short of boundary options, chiselled away at the other.
But with the finishing line in sight and the short balls relentless, Foakes eventually holed out to a sparkling diving catch at long leg from Wagner. It brought Anderson to the crease and, very soon, this epic Test match to its historic conclusion.