The Speaker of the US House of Representatives has been ousted from his position in a historic vote forced by far-right Republicans he had spent nine months appeasing.
Kevin McCarthy, a Republican from California, is the first Speaker ever to be removed from office after months of turbulent fighting within Donald Trump's party, leaving the House in unchartered territory.
How did we get here?
The US House of Representatives has been in an ever-increasing state of turmoil since Mr McCarthy was subjected to an unprecedented 15 rounds of votes over four days last January, caused by the far-right flank of the divided Republican Party.
He made huge accommodations for that faction of the party – which has now ousted him.
One such concession Mr McCarthy made was a rule change that allowed any single representative to file a motion to vacate his position – the procedure Representative Matt Gaetz initiated on Tuesday.
In a fiery debate before the vote, Mr Gaetz criticised a deal to stop the US defaulting on its debt that Mr McCarthy made with President Joe Biden and a vote to prevent a government shutdown this week, which some Republicans opposed as they demanded steeper spending cuts.
Other complaints against the speaker revolved around his truthfulness and ability to keep the promises he had made.
'McCarthy couldn't keep his word'

What happens now?
Immediately after the vote, Republican Patrick McHenry, a close McCarthy ally, was named temporary Speaker or Speaker pro tempore.
Mr McHenry can serve in the temporary role indefinitely, but he does not have the full power of an elected Speaker – only those that are deemed "necessary and appropriate" to elect someone to the job.
The North Carolina representative declared the House in recess until both Republicans and Democrats decide on a path forward.
Until a new Speaker is elected, it is unlikely that any action will be taken on bills to fund the government, with politicians facing a 17 November deadline to provide more money or risk a partial government shutdown.
Republicans said they would need at least a week to choose a new Speaker, which will eat into the time necessary to pass legislation on funding.
'Difficult day for American people'

Who will be the next Speaker?
It is unclear who House Republicans will nominate for the Speakership – but as the largest party in the House, whoever they eventually choose is likely to win.
However, the entrenched divisions in the Republican Party make this process incredibly difficult and there is no obvious successor.
Some representatives said on Tuesday they were determined to renominate Mr McCarthy and vote for him as Speaker but he has now said he will not run.
Read more:
Hunter Biden pleads not guilty to three firearm charges
Trump generated 'more than $100m' through fraud, court hears
On Wednesday, Steve Scalise, the House's Majority Leader, and Jim Jordan, the chair of the House Judiciary Committee and a favourite of the right-wing faction of the party, put themselves forward for the job.
Other names discussed include Representative Kevin Hern, chair of the Republican Study Committee, and Whip Tom Emmer.
Once Republicans decide who to nominate for Speaker, the House must vote as many times as it takes for a candidate to receive the votes of the majority – which can take a significant amount of time, as seen in January.
Who is Matt Gaetz?
Matt Gaetz is a Republican representative from Florida serving his fourth two-year term. He is also a close ally of Mr Trump.
Mr Gaetz initiated the procedure to oust McCarthy and led the debate in the House of Representatives before the vote.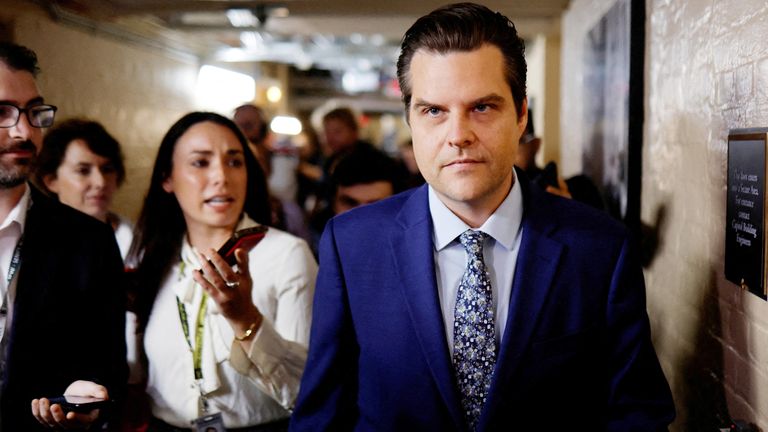 He was also one of the major figures who frustrated Mr McCarthy's efforts to become Speaker in January.
One of the defining moments of that period came when Alabama Representative Mike Rogers, a Republican ally of Mr McCarthy, angrily confronted Mr Gaetz on the House floor before being pulled back by a colleague.
Mr Gaetz could face political repercussions for his actions, as many Republicans blame him for the chaos and believe he is advancing his own interests rather than acting for the good of the party.
"Look, you all know Matt Gaetz. You know it was personal. It had nothing to do about spending," Mr McCarthy said. "It all was about getting attention from you [the media]. I mean we were getting email fundraisers as he's doing it."