In theaters everywhere on September 29th, 'Dumb Money' is a funny, sharp satire of the GameStop stock story, which had people gripped in early 2021.
Following what happened when "retail investors" seized upon the idea of driving up the value of the games store and Wall Street's reaction, it's an entertaining true account of one of the most fascinating financial stories of the last decade.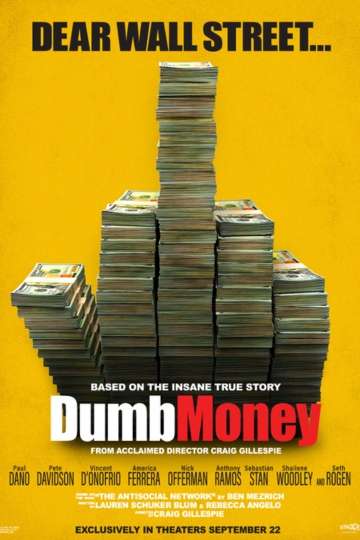 "When the game was rigged, they changed the rules."
1 hr 44 min
Sep 22nd, 2023
Dumb Money is the ultimate David vs. Goliath tale, based on the insane true story of everyday people who flipped the script on Wall Street and got rich by turning… Read the Plot
What's the story of 'Dumb Money'?
'Dumb Money' is the ultimate David vs. Goliath tale, based on the insane true story of everyday people who flipped the script on Wall Street and got rich by turning GameStop (yes, the mall videogame store) into the world's hottest company.
In the middle of everything is regular guy Keith Gill (Paul Dano), who starts it all by sinking his life savings into the stock and posting about it.
When his social posts start blowing up, so does his life and the lives of everyone following him. As a stock tip becomes a movement, everyone gets rich –– until the billionaires fight back, and both sides find their worlds turned upside down.
Who else is in 'Dumb Money'?
The cast of 'Dumb Money' also includes Seth Rogen, Pete Davidson, Vincent D'Onofrio, America Ferrera, Myha'la Herrold, Nick Offerman, Anthony Ramos, Talia Ryder, Sebastian Stan, Shailene Woodley, Kate Burton and Clancy Brown.
Does 'Dumb Money' score?
In some ways, 'Dumb Money' feels like a companion piece to Hulu's 'Pam & Tommy' from earlier this year, though that might primarily be thanks to the presence of Rogen, Offerman and Stan in front of the camera, and director Craig Gillespie behind it (Gillespie was a producer and director for the series).
But in several ways, it is much better than that show, since it chronicles a subject that doesn't haven't such personal, painful ramifications as for Pamela Anderson. It also tells its story in more compact form.
Gillespie, here working from a script by Lauren Schuker Blum and Rebecca Angelo (who first met as reporters on the Wall Street Journal and have several TV series under their combined belts, and adapted Ben Mezrich's book 'The Antisocial Network'), dials down on what really made the Gamestop stop impactful, as well as drawing out real laughs from certain moments.
A big positive for the movie was widening the scope beyond the story of Keith Gill and the billionaires whose world he disrupted with his YouTube channel and Reddit posts.
Smaller personal stories such as those of GameStop employee Marcus, college students Riri (Herrold) and Harmony (Ryder) and nurse Jenny (Ferrera), help to explain the central narrative while letting the solid performers (Ferrera is especially good, and between this and 'Barbie' it proves she deserves many more opportunities to shine).
Which is not to say that Dano isn't fantastic as Keith, who posts under the name "Roaring Kitty" and is using his financial analyst smarts to advise others and take big share bets himself. As his on-screen fortune (and infamy grow), Dano and co-star Woodley (as his wife, Caroline), offer up a compelling portrait of a couple confronting an outrageous situation.
On the hedge fund side, Rogen is particularly good as Gabe Plotkin, who has risen from humble beginnings to run a hedge fun dealing in the billions. He's certainly let the power that money has brought go to his head and is introduced yelling on the phone at a realtor representing a fancy house he wants to buy simply to tear down so he can build a tennis court to use during the pandemic.
Elsewhere, Offerman is typically funny and gruff as the even wealthier Ken Griffin, who smugly dines on incredibly rare food at exclusive restaurants and offers to help Gabe out when he gets into trouble, only to find himself in corporate hot water when his company works with the startup that lets ordinary people buy shares without commission.
The whole thing is told with verve, energy and humanity, and marks it out as one of the most impressive examples of the social comedy form to happen along since Adam McKay switched from the goofy likes of 'Anchorman' to his own sharpened satires.
And perhaps the biggest recommendation I can make about the movie is that it uses Pete Davidson in a way that is not completely annoying. Playing Keith's boisterous slacker brother, Davidson's particular energy is on display in a useful, fitting way. Give it an Oscar for that alone!
Are there any problems with 'Dumb Money'?
'Dumb Money' does take its time at first to set its scene, occasionally falling into the trap of repeating information. It might have you checking your watch initially. But that setup is necessary to set the scene –– somehow it doesn't have the same energy as the rest of the movie.
Likewise, were it not for the fact that they are real people, the likes of Gabe, Ken and fellow rich type Steve Cohen (D'Onofrio) would come across as cartoon characters in a fictional film. Here, they are all too terrifyingly confident in their ability to stop the "dumb money" amateur investors.
As with most true stories of this kind, there is a certain dose of cold water awaiting you by the end –– despite the movie's claim that the GameStop situation changed Wall Street's way of doing business for the better, you're left with the lingering feeling that we're just counting down to the next financial scandal as the division between rich and poor grows.
That, though, is more to do with the real world than the movie's story.
If you're fascinated by how the "little people" can get on over on the rich types (at least for a while) and want to watch it happen in entertaining and clever fashion, 'Dumb Money' is well worth a bet at the theater.
'Dumb Money' receives 8.5 out of 10 stars.
Other Movies Similar to 'Dumb Money':