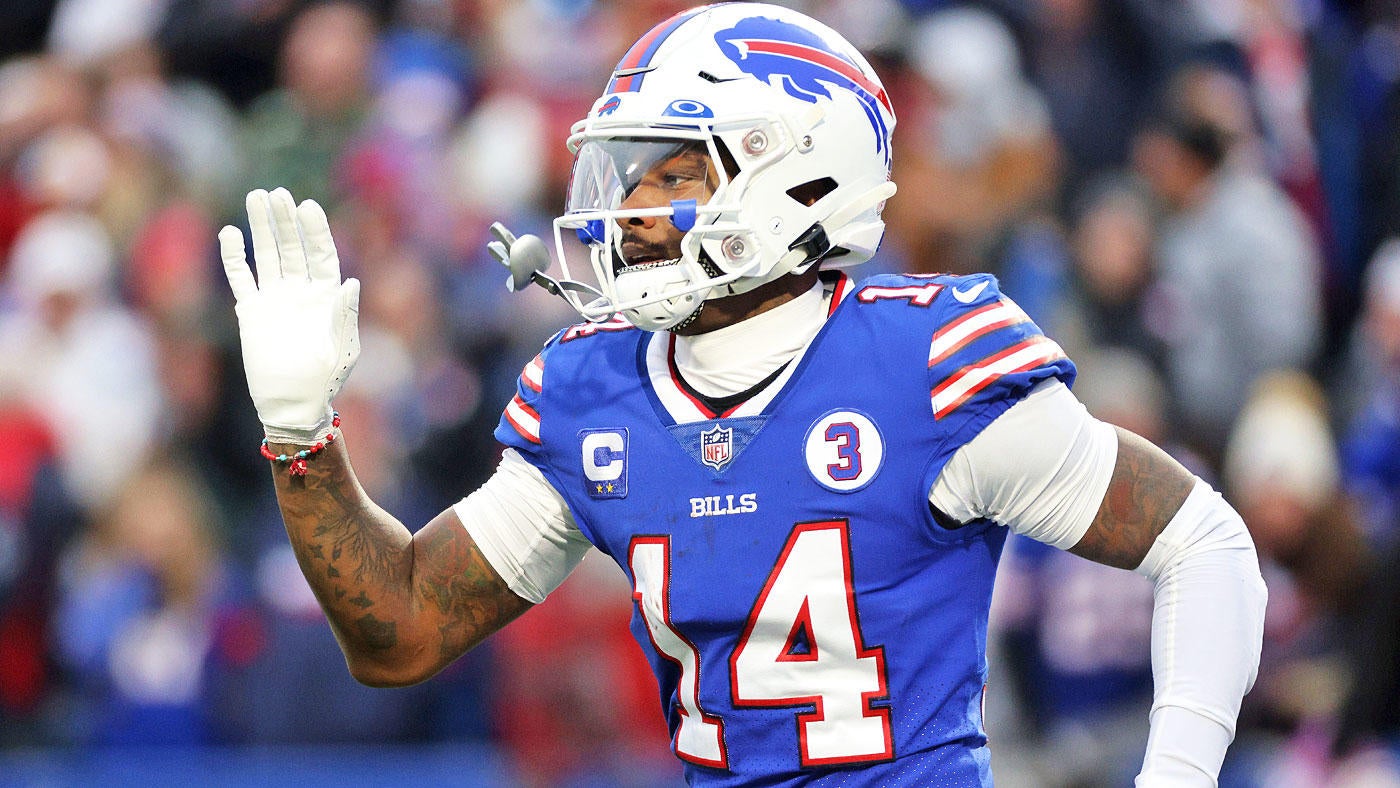 A trio of divisional battles will highlight the Week 4 NFL on CBS schedule on Sunday October 1. At 1 p.m. ET, the undefeated Miami Dolphins will try to stay that way when they visit the Buffalo Bills, while Ravens vs. Browns will see a pair of 2-1 AFC North teams do battle at that same time. At 4:05 p.m. ET, the NFL on CBS broadcast schedule will singularly focus on Raiders vs. Chargers, and this fierce rivalry has seen the teams split their last 20 meetings. You can stream the action live on Paramount+ depending on where you live. Plus, you can take half-off an annual plan and get seven days free.
Other Paramount+ streaming games also a part of the Week 4 NFL on CBS schedule include Broncos vs. Bears and Steelers vs. Texans, both at 1 p.m. ET. The former should see one team collect its first victory, while the latter will include Texans legend and CBS Sports analyst J.J. Watt getting inducted into the team's Ring of Honor, with his brother T.J. Watt in attendance. You can live stream your local CBS affiliate with a Paramount+ with SHOWTIME subscription, which means you can live stream the NFL from anywhere on any device, subject to local blackout rules.
With Week 1 of the 2023 NFL season beginning in under a month, now is the perfect time to sign up for Paramount+ so you can enjoy the NFL on CBS throughout the year. The action begins on Sunday, September 10 with NFL Today, hosted by James Brown and featuring Phil Simms, Boomer Esiason, Jonathan Jones, Bill Cowher and J.J. Watt.
Every week, you'll be able to start off your NFL Sunday with the pregame crew from NFL Today on Paramount+, followed by the NFL on CBS broadcast available in your area. With CBS broadcasting Super Bowl 58 from Allegiant Stadium in Las Vegas in 2023, a Paramount+ subscription means that you'll also be able to live stream the biggest game of the year from anywhere.
How to watch the NFL on CBS with Paramount+
If you haven't already subscribed for Paramount+, you can sign up now. The Paramount+ Essential plan is $5.99 per month and includes over 40,000 episodes of TV and movies with limited commercial interruptions. With the Paramount+ with SHOWTIME bundle, you'll get 45,000 episodes of TV, your live local CBS affiliate and access to the entire SHOWTIME library completely ad-free.
Once you've signed up for a Paramount+ subscription, you can begin watching the NFL on CBS live on gameday. Simply open the Paramount+ app, click the live TV button and you can choose from a variety of live CBS programming, including your local CBS affiliate, CBS News, CBS News Local, CBS Sports HQ, CBS Sports Golazo Network and more.
On NFL Sundays, the NFL on CBS begins with NFL Today at noon ET and early kickoffs at 1 p.m. ET. Individual games are subject to local broadcast rights and availability may change based on where you are in the country. Subscribe to Paramount+ today with an amazing signup promo.
What else you get with a Paramount+ subscription
With over 60 million subscribers, Paramount+ is an industry leader in live streaming content and a subscription gets you access to an expansive library from several of the most recognizable brands in entertainment. There are thousands of episodes from BET, CBS, Comedy Central, Nickelodeon, MTV and others available on Paramount+, and the addition of SHOWTIME brings shows like Dexter, Billions and Homeland to the premium bundle.
In addition to being able to live stream NFL games on CBS, Paramount+ gives you unparalleled access to live streaming sports as the exclusive broadcast home of UEFA Champions League, Serie A, NWSL, Bellator MMA and more. Paramount+ also takes you behind the scenes with 60 Minutes Sports, along with original sports documentaries and reality sports shows like Texas 6.
Plans begin for as low as $5.99 per month and you can watch on-demand content ad-free with Showtime for just $11.99 per month while also streaming your live local CBS affiliate from any device. Start with a free seven-day trial now.
2023 NFL on CBS broadcast schedule (all times ET)
WEEK 1 – SUNDAY, SEPT. 10

CBS DOUBLEHEADER

Cincinnati at Cleveland

1:00

Tampa Bay at Minnesota

1:00

Tennessee at New Orleans

1:00

Houston at Baltimore

1:00

Philadelphia at New England

4:25

Miami at LA Chargers

4:25

Las Vegas at Denver

4:25
WEEK 2 – SUNDAY, SEPT. 17

CBS DOUBLEHEADER

Kansas City at Jacksonville

1:00

Baltimore at Cincinnati

1:00

LA Chargers at Tennessee

1:00

Las Vegas at Buffalo

1:00

NY Jets at Dallas

4:25

Washington at Denver

4:25
WEEK 3 – SUNDAY, SEPT. 24

New England at NY Jets

1:00

Denver at Miami

1:00

Tennessee at Cleveland

1:00

Indianapolis at Baltimore

1:00

Buffalo at Washington

1:00

Carolina at Seattle

4:05
WEEK 4 – SUNDAY, OCT. 1

Miami at Buffalo

1:00

Denver at Chicago

1:00

Baltimore at Cleveland

1:00

Pittsburgh at Houston

1:00

Las Vegas at LA Chargers

4:05
WEEK 5 – SUNDAY, OCT. 8

CBS DOUBLEHEADER

Baltimore at Pittsburgh

1:00

New Orleans at New England

1:00

Tennessee at Indianapolis

1:00

Kansas City at Minnesota

4:25

NY Jets at Denver

4:25
WEEK 6 – SUNDAY, OCT. 15

Seattle at Cincinnati

1:00

Indianapolis at Jacksonville

1:00

Washington at Atlanta

1:00

Carolina at Miami

1:00

New England at Las Vegas

4:05
WEEK 7 – SUNDAY, OCT. 22

CBS DOUBLEHEADER

Washington at NY Giants

1:00

Buffalo at New England

1:00

Cleveland at Indianapolis

1:00

LA Chargers at Kansas City

4:25

Green Bay at Denver

4:25
WEEK 8 – SUNDAY, OCT. 29

CBS DOUBLEHEADER

NY Jets at NY Giants

1:00

New England at Miami

1:00

Jacksonville at Pittsburgh

1:00

Atlanta at Tennessee

1:00

Cincinnati at San Francisco

4:25

Kansas City at Denver

4:25

Baltimore at Arizona

4:25
WEEK 9 – SUNDAY, NOV. 5

Seattle at Baltimore

1:00

Chicago at New Orleans

1:00

Arizona at Cleveland

1:00

Tampa Bay at Houston

1:00

Indianapolis at Carolina

4:05
WEEK 10 – SUNDAY, NOV. 12

Green Bay at Pittsburgh

1:00

Tennessee at Tampa Bay

1:00

Houston at Cincinnati

1:00

Detroit at LA Chargers

4:05

Atlanta at Arizona

4:05
WEEK 11 – SUNDAY, NOV. 19

CBS DOUBLEHEADER

Pittsburgh at Cleveland

1:00

Las Vegas at Miami

1:00

Tennessee at Jacksonville

1:00

Arizona at Houston

1:00

NY Jets at Buffalo

4:25

Seattle at LA Rams

4:25
WEEK 12 – THURSDAY, NOV. 23

THANKSGIVING DAY

Washington at Dallas

4:30
WEEK 12 – SUNDAY, NOV. 26

CBS DOUBLEHEADER

Pittsburgh at Cincinnati

1:00

Jacksonville at Houston

1:00

Tampa Bay at Indianapolis

1:00

Buffalo at Philadelphia

4:25

Kansas City at Las Vegas

4:25
WEEK 13 – SUNDAY, DEC. 3

LA Chargers at New England

1:00

Arizona at Pittsburgh

1:00

Indianapolis at Tennessee

1:00

Carolina at Tampa Bay

1:00

Denver at Houston

4:05
WEEK 14 – SUNDAY, DEC. 10

CBS DOUBLEHEADER

Houston at NY Jets

1:00

Indianapolis at Cincinnati

1:00

Jacksonville at Cleveland

1:00

Tampa Bay at Atlanta

1:00

Buffalo at Kansas City

4:25

Denver at LA Chargers

4:25
WEEK 15 – SUNDAY, DEC. 17

NY Jets at Miami

1:00

Houston at Tennessee

1:00

TBD

1:00

Washington at LA Rams

4:05

San Francisco at Arizona

4:05
WEEK 16 – SUNDAY, DEC. 24

Washington at NY Jets

1:00

Seattle at Tennessee

1:00

Cleveland at Houston

1:00

Jacksonville at Tampa Bay

4:05
WEEK 16 – MONDAY, DEC. 25

CHRISTMAS DAY

Las Vegas at Kansas City

1:00
WEEK 17 – SUNDAY, DEC. 31

CBS DOUBLEHEADER

New England at Buffalo

1:00

Miami at Baltimore

1:00

Las Vegas at Indianapolis

1:00

Atlanta at Chicago

1:00

Carolina at Jacksonville

1:00

Cincinnati at Kansas City

4:25

LA Chargers at Denver

4:25
WEEK 18 – SUNDAY, JAN. 7
CBS DOUBLEHEADER
CBS Games TBD