Brandon Moreno and Deiveson Figueiredo will both carry gold heading into their fourth fight. Moreno captured the interim UFC flyweight championship with a third-round TKO over Kai Kara-France at the American Airlines Center in Dallas, Texas on Saturday night at UFC 277.
Moreno and Kara-France fought a competitive two rounds that likely inched in Moreno's favor. It was an action-packed third round that will be remembered fondly. Kara-France tripped Moreno to the floor and hurled a slashing elbow that opened a cut under Moreno's eye. The City Kickboxing product bludgeoned Moreno with punches as teammates Israel Adesanya and Alexander Volkanovski watched in support.
Moreno's relentless spirit shone as he returned to the feet and cranked the pressure before landing a devastating liver kick. Kara-France covered up as Moreno rained down follow-up shots that forced referee Herb Dean's hand. The fight was officially stopped at 4:34 of Round 3 in what was shaping up to be Kara-France's best round.
Figueiredo, the reigning UFC flyweight champion, entered the Octagon for a post-match confrontation with the interim titleholder. Figueiredo and Moreno have split their three-fight series 1-1-1. The fighters buried the hatchet, praising each other ahead of their anticipated fourth fight.
Moreno (20-6-2) bounced back from a unanimous decision loss that snapped a seven-fight undefeated streak. France (24-10, 1 NC) won three consecutive fights — including knockouts of Cody Garbrandt and Rogerio Bontorin — to earn an interim title shot.
Can't get enough boxing and MMA? Get the latest in the world of combat sports from two of the best in the business. Subscribe to Morning Kombat with Luke Thomas and Brian Campbell for the best analysis and in-depth news.
UFC 277 results, highlights: Sergei Pavlovich stops Derrick Lewis in under a minute
Pavlovich made short work of Lewis in a TKO win that was heavily criticized by the Dallas crowd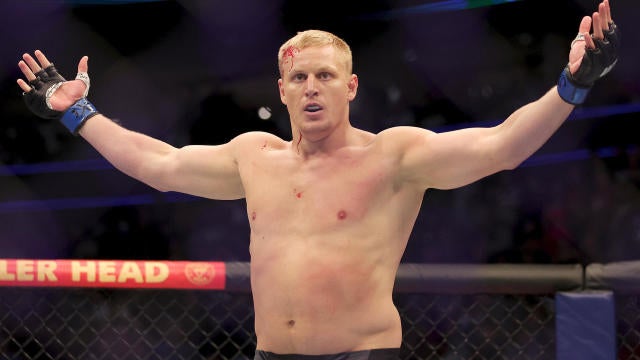 Sergei Pavlovich is a lot happier with his performance against Derrick Lewis than the crowd was at UFC 277 in Dallas, Texas. Pavlovich stopped Lewis with a first-round TKO that had people screaming about an early stoppage.
Pavlovich and Lewis slung leather from the get-go. "The Black Beast" intended to put on a show for his home state by immediately pressing Pavlovich against the fence. Pavlovich cracked Lewis with a counter-right hook that stumbled him. The Russian heavyweight chased Lewis across the Octagon and unleashed powerful punches. Referee Dan Miragliotta intervened the moment that Pavlovich dropped his foe.
Lewis quickly bounced to his feet and protested he stoppage. The roof blew off American Airlines Center as the crowd roared in disapproval of Pavlovich's win.
Pavlovich was satisfied with the stoppage in a post-fight interview with UFC commentator Joe Rogan. Pavlovich said through a translator that he did his job and was prepared to unload on Lewis for the duration of the fight.
Pavlovich (16-1) has ended every fight of his UFC career in the first round and boasts four straight knockout wins. Lewis (26-10, 1 NC) has lost consecutive fights for the second time in his UFC career.
Can't get enough boxing and MMA? Get the latest in the world of combat sports from two of the best in the business. Subscribe to Morning Kombat with Luke Thomas and Brian Campbell for the best analysis and in-depth news.
UFC Fight Night results, highlights: Tom Aspinall suffers brutal knee injury, Curtis Blaydes wins by TKO
The heavyweight clash lasted just 15 seconds after the injury called a halt to the action

Jul 23, 2022 at 6:10 pm ET
•
1 min read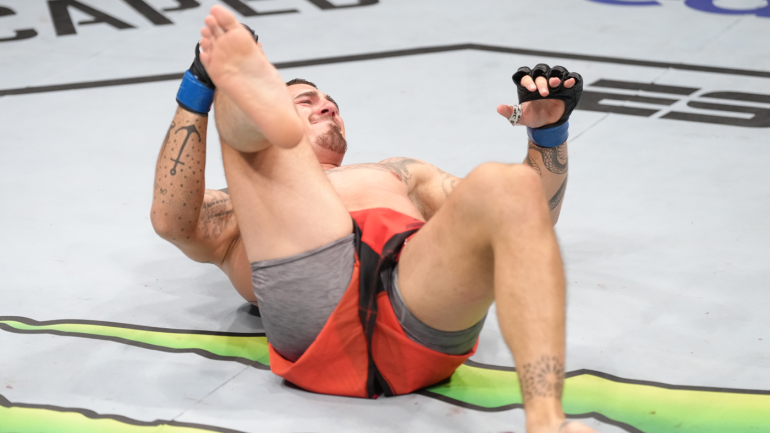 Getty Images
For nearly the entirety of UFC London, the local fans had been given plenty to cheer about. That came to a very unfortunate end in the heavyweight main event as Tom Aspinall suffered a knee injury that ended his fight with Curtis Blaydes in just mere moments.
Aspinall stayed true to his word, coming forward and throwing punches and kicks at Blaydes. Blaydes was happy to meet him on that level, landing some heavy right hands of his own in the brief but thrilling exchanges.
Aspinall then threw a heavy leg kick and stepped backward before clutching at his knee and collapsing to the floor. The fight was over immediately, just 15 seconds after it began.
Blaydes was named the victor by TKO, though he was not happy with how the fight played out
"It's almost like we didn't even fight," Blaydes said after the win. "I wanted to come here and prove a statement. Aspinall is legit. … I don't even know what to say. I'm sorry, man. … We never really got an opportunity for either of us to showcase our skills. He's got stuff, I've got stuff. I wanted to see who's got the better stuff."
This was the second consecutive UFC main event to end in injury after Brian Ortega suffered a shoulder injury against Yair Rodriguez in their July 16 clash.
UFC Fight Night results, highlights: Paddy Pimblett secures second-round submission of Jordan Leavitt
'Paddy the Baddy' overcame some early clinch work to lock up his rear-naked choke on Saturday in London

Jul 23, 2022 at 5:14 pm ET
•
1 min read
Bellator 283 results, highlights: Jason Jackson dominates Douglas Lima with wrestling to score decision win
Lima had no answers for the wrestling and top game of Jackson

Jul 23, 2022 at 12:20 am ET
•
1 min read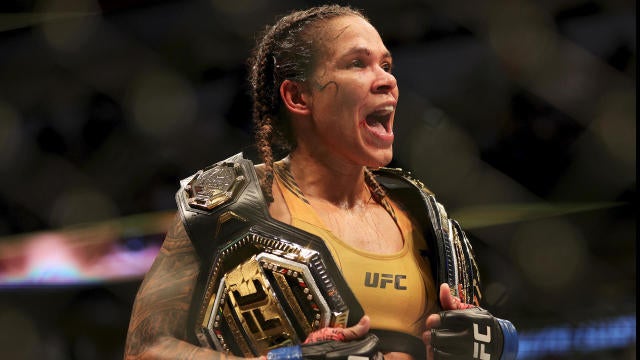 The Bellator 283 main event between Jason Jackson and former welterweight champion Douglas Lima was a clash of 170-pounders trending in opposite directions. After Lima won the Welterweight World Grand Prix in October 2019, he had lost three straight fights while Jackson was riding a five-fight winning streak. Ultimately, momentum carried the day at Emerald Queen Casino and Hotel in Tacoma, Washington as Jackson's wrestling carried him to a clear unanimous decision victory.
While Lima seemed interested in focusing on his leg kicks early in the fight, it only took slightly more than 90 seconds for Jackson to score the first takedown of the fight, putting Lima on the floor with surprising ease. After that turned into dominance on the ground for Jackson, it seemed the blueprint had been laid out.
Can't get enough boxing and MMA? Get the latest in the world of combat sports from two of the best in the business. Subscribe to Morning Kombat with Luke Thomas and Brian Campbell for the best analysis and in-depth news.
In the second, Jackson again scored takedowns and controlled the action but suffered a very scary moment when Lima landed a big upkick that seemed to rock Jackson. While Lima was able to land a flurry of hammerfists off his back in the moment, Jackson recovered and was able to continue controlling the fight with his top control and ground and pound.
By Round 4, Lima was cut above his eye as he seemed to accept Jackson's success in executing takedowns and easily remaining in top position.
Nothing much changed throughout the fight as Jackson avoided damage on the feet, closed distance and put Lima on the ground round after round. Once on the floor, Lima would offer next to nothing off his back, not threatening with submissions or trying to work his way back to his feet.
After the conclusion of the fight, there was no drama as the fight went to the scorecards. As expected, Jackson took the decision by a trio of wide scorecards all of which read 50-45.
After the fight, Jackson said that he wanted the winner of welterweight champion Yaroslav Amosov and interim champ Logan Storley, who are expected to clash to unify the titles. Jackson, claiming there is no one else left to fight to earn a title shot, also brushed off a potential bout with Michael "Venom" Page as a bout for the future.
UFC 280 fight card: Sean O'Malley announces matchup against former champion Petr Yan in October
The bantamweight showdown adds some depth to what is expected to be a loaded card in Abu Dhabi
Jul 20, 2022 at 6:28 pm ET
•
1 min read
Getty Images
Those who have been waiting to see Sean O'Malley take a major step up in competition appear to be just months away from getting their wish. O'Malley announced on ESPN's "DC and RC" that he is fighting former bantamweight champion Petr Yan at UFC 280.
"I'm getting a fight that I wanted and the fight that people want," O'Malley said. "I'm fighting Petr Yan on Oct. 22 in Abu Dhabi. I think this is … I'm so excited. I can't believe that this is real and it's happening."
The fight does not appear to be a done deal quite yet as Yan's manager, Danny Rubenstein, appeared on Ariel Helwani's "MMA Hour" saying the fight was not yet officially signed but that verbal agreements were in place.
O'Malley is coming off a disappointing result in his most recent outing, seeing his UFC 276 bout with Pedro Munhoz end in a no contest after O'Malley landed an accidental eye poke that left Munhoz unable to continue. Prior to that bout, O'Malley had won three straight fights, all by stoppage, after a disappointing TKO loss to Marlon Vera in a fight where O'Malley suffered a leg injury leading to the finish.
While he has become one of the UFC's brightest young stars, many have been waiting to see O'Malley step into the Octagon with true division contenders. That is certainly the case with Yan, a fighter who had ripped through the 135-pound division before winning the then-vacant title in a bout with Jose Aldo.
Yan lost the belt in his first defense, landing a blatantly illegal knee on Aljamain Sterling that led to Yan being disqualified. After an impressive showing in defeating Cory Sandhagen to win the interim bantamweight title, Yan rematched Sterling, this time losing a narrow split decision.
Can't get enough boxing and MMA? Get the latest in the world of combat sports from two of the best in the business. Subscribe to Morning Kombat with Luke Thomas and Brian Campbell for the best analysis and in-depth news, including instant reaction to Yan vs. O'Malley being announced below.
The winner of O'Malley vs. Yan is likely getting a title shot at some point in the next year and will certainly hold one of the top spots in the UFC's official rankings.